Your wedding reception program is an important element of your celebration, and it helps to ensure that everything runs smoothly and efficiently. But crafting the perfect program outline can be a bit of a challenge.
Here are 10 tips for creating a wedding reception program outline that will impress your guests and make your celebration one to remember.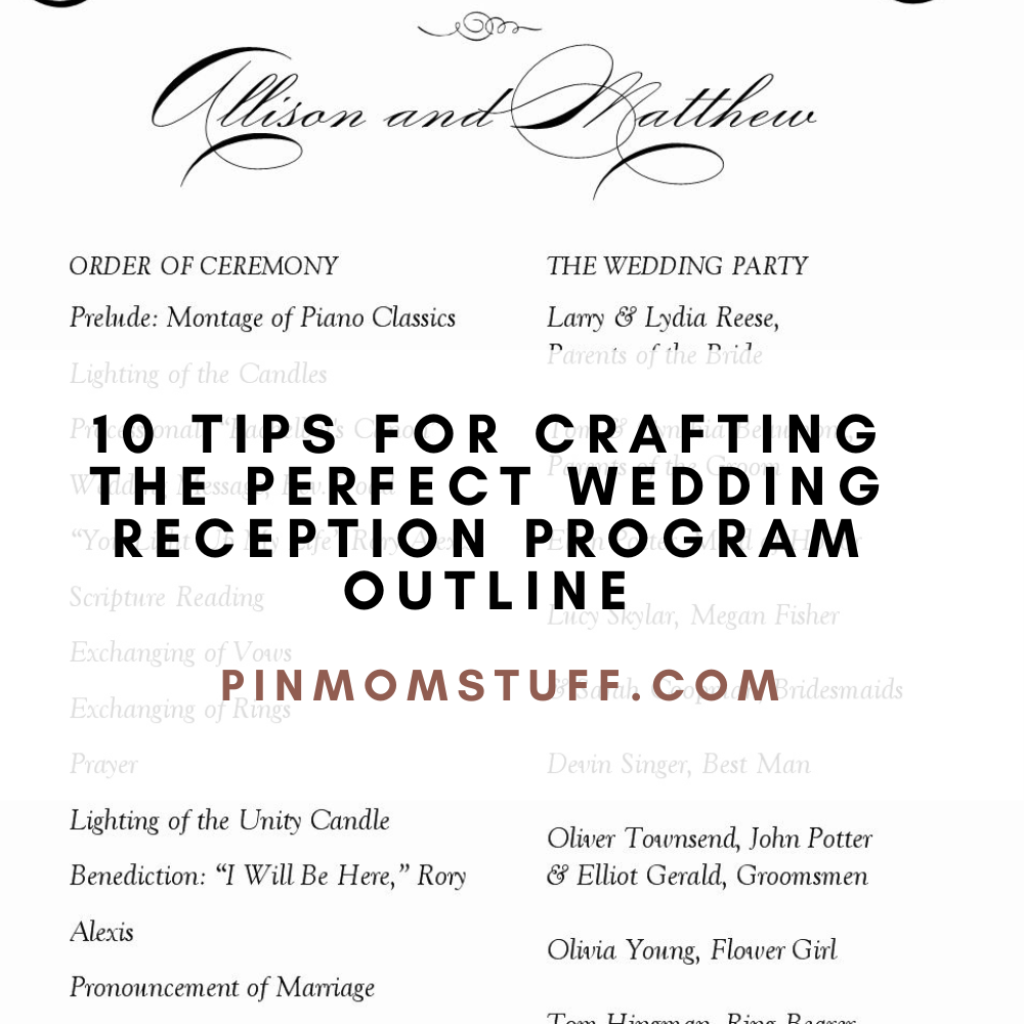 Start with a timeline
The first thing to consider when crafting your reception program is the timeline. Your program should include a rough outline of the events that will take place during the reception, including the arrival of guests, the cocktail hour, dinner, and any other planned activities. By laying out the timeline beforehand, you'll be able to ensure that everything runs smoothly and that there aren't any awkward gaps in the schedule.
Consider your audience
When planning your reception program, it's important to consider your audience. Who are your guests, and what are their interests and preferences? Tailoring your program to suit your guests will help to ensure that they have a great time and that the reception is a success.
Think about the flow of the program
Your reception program should have a natural flow to it, with events transitioning smoothly from one to the next. Consider the order in which events will take place and how they will fit together to create a cohesive experience.
Incorporate your personal style
Your wedding reception is a reflection of you and your partner, so don't be afraid to incorporate your personal style into the program. This could mean choosing music that reflects your tastes or including activities that are meaningful to you.
Plan for unexpected events
No matter how well you plan, there are always going to be unexpected events that arise during a wedding reception. Whether it's a power outage or an unruly guest, it's important to have a plan in place to handle these types of situations. Make sure to include a section in your program outline for handling unexpected events so that you're prepared for anything that might come up.
Don't forget the details
While the big events like dinner and dancing are certainly important, it's the small details that can really make a wedding reception special. Consider including elements like custom cocktail napkins or personalized favors in your program to add some extra sparkle to the celebration.
Consider your venue
The venue for your wedding reception will have a big impact on the overall feel of the event. When crafting your program outline, think about how the venue will fit into the flow of the program and how you can make the most of its unique features.
Include breaks for your vendors
Your vendors, including your DJ and catering team, will need breaks throughout the reception. Make sure to include these breaks in your program outline so that everyone has a chance to rest and recharge.
Plan for transitions
Transitions between events can be some of the most awkward moments at a wedding reception. Make sure to plan for these transitions in your program and consider how you can smooth them out. This could mean planning a special activity or using music to bridge the gap.
Keep it simple
Finally, when it comes to crafting the perfect wedding reception program outline, less is often more. Don't try to pack too much into the program, and focus on the elements that are most important to you. A simple, well-planned program is often the most effective and memorable.
Conclusion
By following these tips, you'll be well on your way to crafting the perfect wedding reception program outline. With a little bit of planning and some careful consideration, you can create a program that is tailored to your needs and that helps to make your celebration a success.
Images For Wedding Reception Welcome Sign Wedding Reception Program Wedding Programs Template Reception Invitations
Rec Program Wedding Reception Program Wedding Party Bride Party Ideas
A Suggested Order For Your Wedding Reception Programme Order Of Wedding Reception Wedding Reception Program Wedding Reception Schedule
Wedding Ceremony Programs Wording Examples Programs Wedding Program Wording Prog Wedding Reception Program Wedding Programs Template Wedding Programs Wording
Wedding Ceremony Programs Wedding Programs Wedding Program Wording Program Sample Wedding Ceremony Programs Order Of Wedding Ceremony Wedding Ceremony Script
Wedding Programs Bbt Com Wedding Reception Program Wedding Programs Modern Wedding Reception
E Program Bickham Interior 1 Gif 396 618 Order Of Wedding Ceremony Wedding Ceremony Pictures Wedding Ceremony Booklet
Wedding Ceremony Programs Wording Examples Wedding Program Examples Wed Wedding Program Examples Wedding Ceremony Programs Wedding Ceremony Programs Template
African American Wedding Programs Adinkra Wedding Program Wording African Program Wedding Reception Program Wedding Reception Schedule Wedding Church Programs
Famousipod Berbagi Informasi Tentang Pertanian Wedding Ceremony Programs Template Wedding Ceremony Programs Wedding Reception Program
Christian Wedding Programs Ceremony Catholic Wedding Ceremony Wedding Ceremony Programs Template Wedding Ceremony Outline
Sample Wedding Programs At The Reception Unique Wedding Gallery Wedding Reception Program Wedding Reception Program Sample Wedding Programs Template
Sample Wedding Reception Program Wedding Reception Timeline Wedding Reception Schedule Wedding Reception Program
Wedding Reception Order Of Events Ceremony Programs Wedding Reception Timeline Wedding Reception Program Wedding Reception Schedule
Weddings Events Wedding Reception Program Wedding Programs Template Engagement Reception
Pin By Nancy Scarffe On Wedding Programs Wedding Reception Program Wedding Programs Wedding Program Template Free
Wedding Reception Program Ideas Timeline 27 Ideas For 2019 Wedding Reception Program Wedding Reception Schedule Wedding Reception Timeline
Pin By Jasonandbrittney Hall On Wedding Wedding Reception Program Country Wedding Invitations Wedding Programs
Wedding Itinerary Templates Free Dj Weddings In Raleigh Nc Cary Durham Duke Garde Wedding Reception Program Wedding Itinerary Wedding Reception Timeline