When you're short on time, but still want to look your best, these five makeup products can help you achieve a fresh-faced look in just 5 minutes.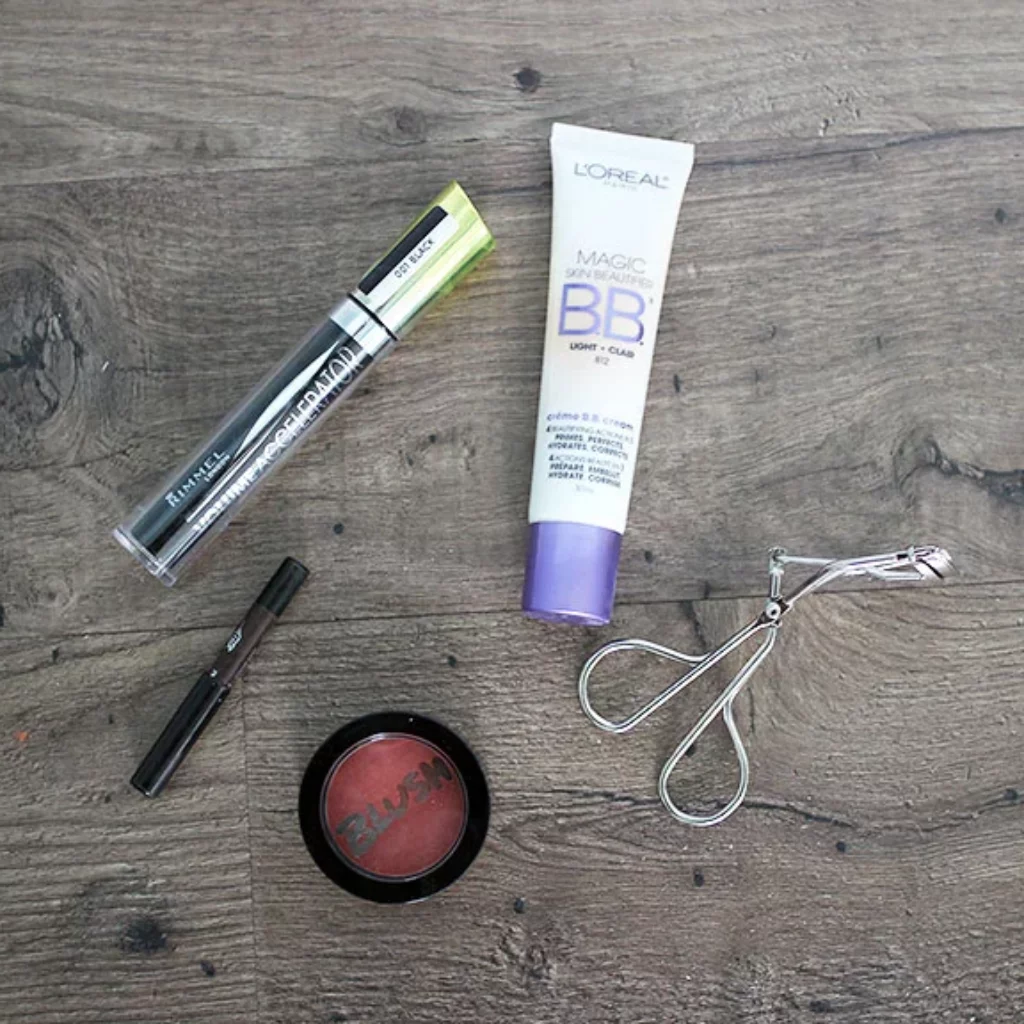 Mascara is essential for adding volume and definition to your lashes. A good mascara will make your eyes look wider and brighter, even if you don't have time to apply any other makeup.
BB cream is a lightweight foundation that provides light coverage and helps to even out your skin tone. It's perfect for days when you want to look natural, but still put-together.
Eyeliner can help to define your eyes and make them look larger. A brown eyeliner is versatile and can be worn for both day and night looks.
Blush adds a touch of color to your cheeks and can help to give you a more awake appearance. A cream blush is easy to apply and blend, making it perfect for a quick makeup routine.
Eyelash curler is a must-have for curling your lashes and opening up your eyes. It only takes a few seconds to use, but it can make a big difference in your overall look.
Here are the steps on how to apply these products for a quick and easy 5-minute makeup routine:
Start by applying mascara to your top and bottom lashes.
Dot a small amount of BB cream on your cheeks, forehead, and nose. Blend it out with your fingers or a makeup sponge.
Apply eyeliner to the upper lash line of your eyes. Smudge it out with a Q-tip if you want a more natural look.
Apply blush to the apples of your cheeks.
Curl your eyelashes with an eyelash curler.
That's it! You're now ready to face the day with a fresh-faced look.
Tips:
If you're short on time, you can skip the foundation and concealer. Just make sure to use a BB cream that provides enough coverage for your skin.
If you're not used to wearing eyeliner, start with a thin line and gradually build it up.
Don't forget to blend! This is especially important for blush and bronzer.
Practice makes perfect! The more you apply makeup, the faster and easier it will become.
With these five products, you can achieve a fresh-faced look in just 5 minutes. So next time you're in a hurry, don't worry – you've got this!