17 Inspiring Wedding Hairstyles for Round Face – Are you ready to walk down the aisle? I know, it seems like an eternity until then, but trust me: it's worth the wait.
The most important decision you'll make is which hairstyle will look best on your wedding day. Lucky for you (and us) we've done all of that research already so that you don't have to!
Our list of five gorgeous wedding hairstyles that'll flatter a round face includes everything from easy updos to elegant braids.
Check them out below!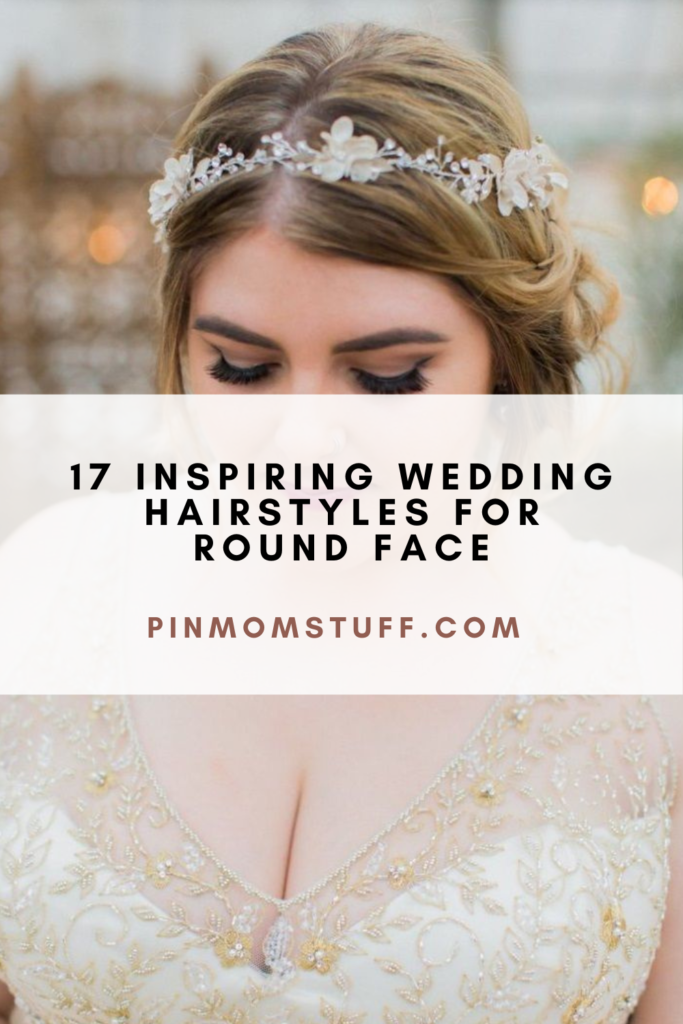 Half Up Half Down
This wedding hairstyle is perfect for round faces because it will elongate your face and make it appear thinner.
To achieve this look, section off the top half of your hair and put it in a low ponytail at the nape of your neck.
Leave out some strands to frame your face and give it a more natural look. From here, take down the rest of your hair and let them hang loose around the back of your head.
Secure them with bobby pins so that they don't fall into disarray during the reception or ceremony.
You can also add some hairspray for extra volume if you want that bouncy look!
Side Bun
If you're looking for something sleek and sophisticated, the side bun is definitely the way to go.
This classic style can be worn in a variety of ways, but we recommend going all-in by adding curls and bangs to complete the look.
To achieve this look, start by brushing your hair out with a round brush while blow drying it upside down.
Then pull your hair back into a high ponytail on one side of your head and secure with an elastic band or bobby pin.
Next grab some loose strands from the front and tuck them behind your ear before wrapping them around the base of your ponytail so that they end up hanging down at an angle toward your neckline.
You can also add some texture by brushing out individual pieces using a fine tooth comb or paddle brush before bringing them up into place with pins or clips.
Side Ponytail
Side ponytails are a great way to wear your hair if you have a round face.
Just make sure your hair is long enough for the style, and then follow these steps:
Make sure your hair is clean and dry. Use a detangling spray or conditioner before drying if necessary; this will reduce breakage and split ends, which can prevent what would otherwise be an amazing look from being ruined by hanging strands of hair around your face!
Section off the front part of your head with three parts: right side, left side, and back (the top). This will help keep everything contained while you put it up into a ponytail holder!
Twist each section around itself until all three are together in one big twisty ball thing—it'll make sense when you do it yourself 😉
Secure with bobby pins along the sides where they meet up with other sections/sections themselves so nothing gets loose once tucked in behind ears later—you'll see what I mean here when we go over styling tips 😉
Simple Up Do
A simple up do would be ideal for a bride on the rounder side. This style can be done with or without bangs, depending on your personal preference.
You can also add flowers or other accessories to the side of your head to give it some flare!
Long and Curly
If you have long hair, this is the perfect time to show it off. You can wear your locks up in a ponytail or down, depending on which look you prefer.
If you want to go with curls, make sure that they're not too tight—this will just accentuate your round face shape further.
If you'd rather keep things more traditional and straight-forward, that's fine too.
The important thing is that there's enough hair to pull back into a ponytail without leaving any strands hanging out of place!
Adding some accessories like flowers or rhinestones will also help camouflage those unsightly edges of your face shape; just don't go overboard with them!
Those hairstyles will have you looking gorgeous on your wedding day!
Round faces are a classic shape that is often associated with voluptuous women.
The best way to tailor this look for your big day is by adding some volume and texture to define your features.
By pairing these tips with any of these styles, you'll be ready for the wedding of your dreams!
Conclusion
If you have a round face, there are so many great styles that will work for you! All you need to do is find the one that fits your personality best.