7 Best Short Haircuts For Wide Faces – If you have a wide face and you're looking for new hairstyle ideas, I've got you covered.
These haircuts are the perfect way to flatter your face shape.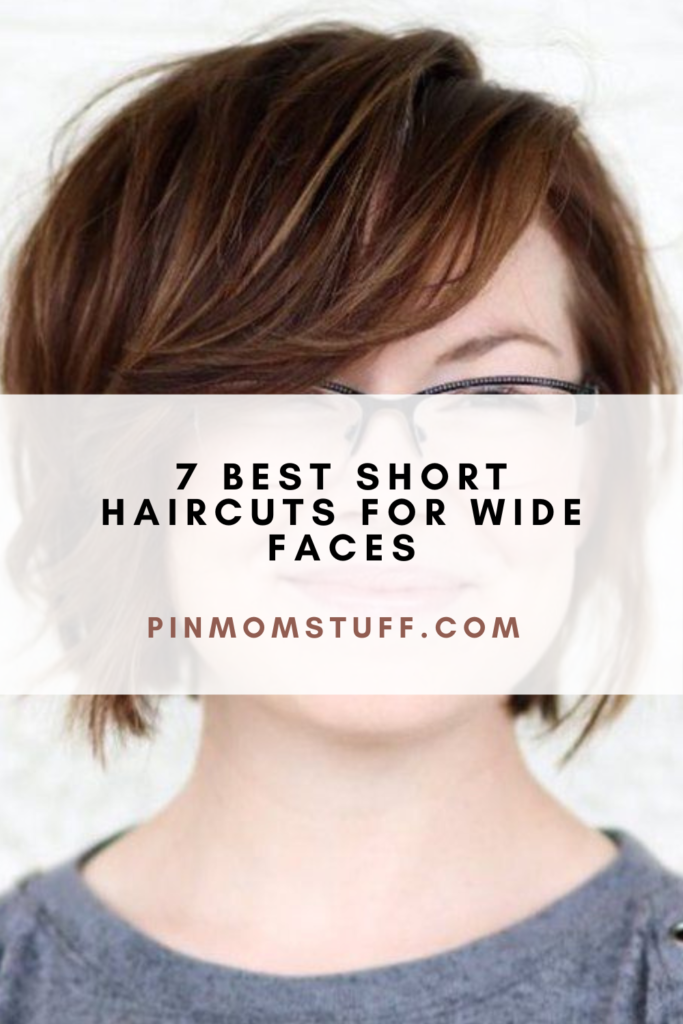 The Messy Pixie
A pixie hairstyle is short, with long bangs. The hair is cut in layers and styled messy. It's parted on the side, usually at an angle where the bangs are swept over to one side.
If you have a long face shape, this can help to add some width to your face by drawing attention upward toward your eyes and away from your chin.
This haircut will also make you look younger because it makes use of soft curls instead of straight lines that set off older features like wrinkles or crow's feet around the eyes!
If you're not sure if this haircut would look good on you, I recommend getting it cut into a bob instead.
This will give you more options when styling it (the long bangs won't be as essential) but still gives off enough length so that people won't mistake you for someone who just got out of bed every morning!
The Layered Bob
If you have a round face and want to add some soft angles, a layered bob is the perfect cut to flatter your features.
The shape of this style will elongate your face, while the blunt bangs help minimize any width. You can also choose how long you want them (from high above the brow line down to just over).
Short hair is great for all types of faces because it adds volume, which makes everything look fuller—and less wide!
If you have thick hair with lots of texture, consider keeping all of it at one length or getting those textured layers cut into small pieces at different heights throughout your head in order to give yourself some shape without losing too much length on top; this will ensure that everything looks natural instead of choppy or fake-looking.
The Asymmetrical Faux Mohawk
This is a great option for someone with a wide face. The long bangs and side-swept fringe provide flattering angles that help to balance out the face, and the asymmetrical style makes it clear that you're not afraid to try something new.
This haircut is also a great option if you want to try short hair, but aren't ready to commit entirely. The length on top of your head can be cut into various lengths (like shaggy or spiky) while still maintaining some length around your neckline.
This way, if you decide at any point in the future that you don't like it anymore, all it takes is one quick trim!
The A-Line Bob
The A-line bob is a flattering cut for wide faces because it softens the jawline and creates volume at the top. It's also a good choice for those with thick hair, as it helps to add body to their locks.
The Pixie with Long Bangs
If you want to add a bit of length to your pixie but still keep it short and sassy, go for a long bang.
The key here is making sure the bangs are long enough to cover your forehead and draw attention away from what might be considered a "big" hairline.
Bangs work great on wide face shapes because they add some height, which will make your face appear narrower.
You can style them any way you like—straight across, in an angled fringe or pushed back into a side swept style—it all depends on what works best for YOU!
The Stacked Bob
The stacked bob is a classic hairstyle that is perfect for women with a wide face.
You can style the bob in many different ways and it's so versatile you can use it in your everyday life, at work or even on special occasions.
This haircut is also low maintenance, which means that you won't have to go to the salon every week to get your hair styled.
The great thing about this hairstyle is that it looks good no matter what length you choose!
The Graduated Bob
If you have wavy or curly hair, the graduated bob is a great option. This cut can be styled with a side part or center part.
The layers are cut longer in the back and shorter in the front to create dimension and movement.
If you have straight hair, you can still get this look by asking for your stylist to add some wave or curl to your locks before cutting them into a graduated bob.
Conclusion
Remember that there are many hairstyles that work for you! Try to find one that fits your face shape and personality.
There are so many different haircuts out there, so don't be afraid to experiment with different styles until you find the right one.