Complete Your Look: The Best 7 Shoes to Wear with Brown Pants – Brown pants are a versatile and stylish choice for any wardrobe, but choosing the right shoes to wear with them can be a bit tricky.
With so many options available, it's essential to understand which shoe styles will complement your brown pants and help you achieve the desired look.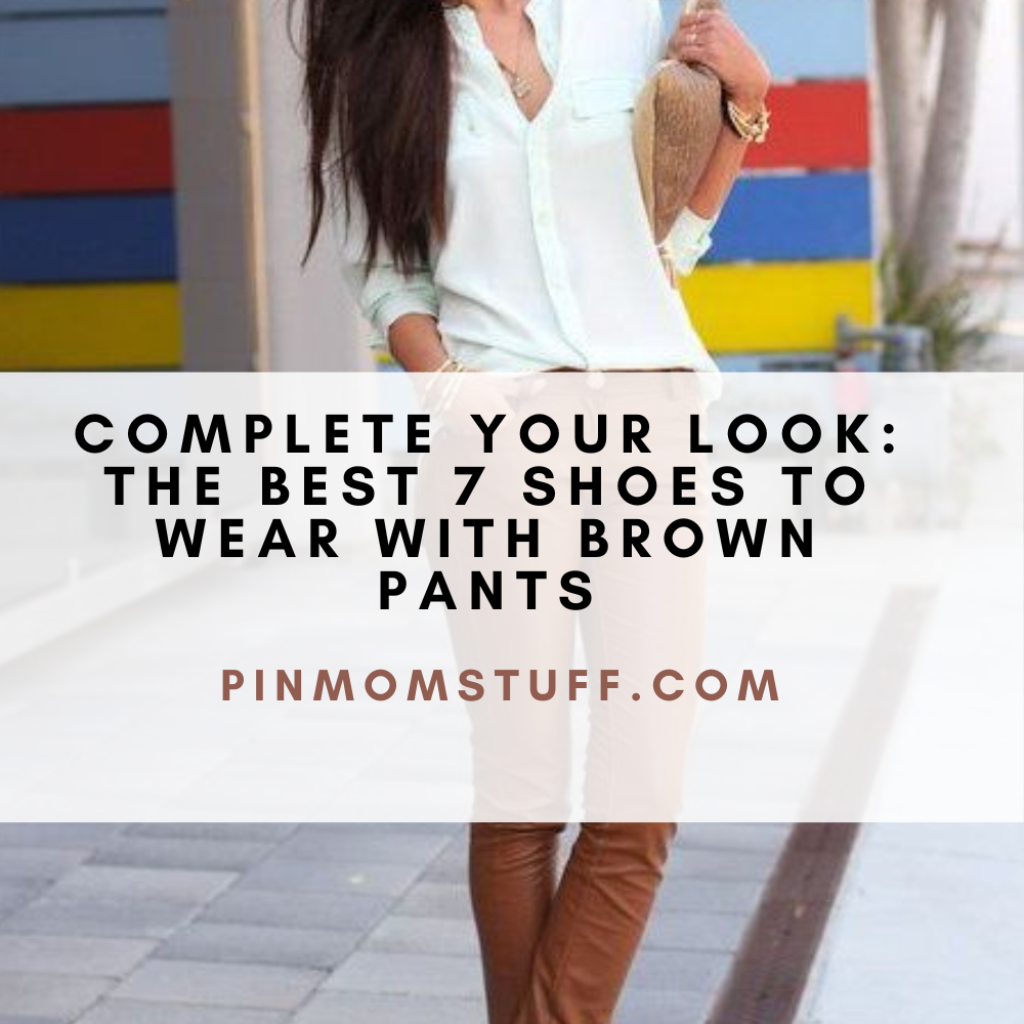 Black Leather Oxford
One classic option that pairs well with brown pants is the black leather oxford. The simple, sophisticated style of this shoe creates a timeless and polished look that can work well for both casual and formal occasions. You can also try with brown leather oxford for a more casual look.
Suede or Leather Loafers
Another versatile option is the suede or leather loafers. Loafers come in a variety of colors and styles, but the brown leather or suede ones in particular are great for complementing the color of your pants. Loafers are a comfortable and versatile shoe that can work well for both casual and formal occasions.
White Sneakers
For a more casual, laid-back look, consider pairing your brown pants with a pair of white sneakers. This combination creates a clean and effortless aesthetic that's perfect for a casual day out. Look for sneakers made with durable, high-quality materials to ensure they last through the wear and tear of daily use.
Colored Sneakers
If you're looking to add a touch of color to your look, try pairing your brown pants with a pair of colored sneakers. Colored sneakers like red, green, blue or yellow can add a pop of color to your outfit and make a bold fashion statement.
Boots
Boots can also be a great option to pair with brown pants. Choose a classic style, such as the Chelsea boot, or a more rugged style, such as the Desert boot to complement your outfit. Opt for boots made with durable materials, such as leather, and featuring insulation or lining for extra warmth during colder months.
Cap Toe Oxford
For a more formal look, consider a pair of dress shoes such as the classic cap-toe oxford or the modern monk-strap shoe. These types of shoes are perfect for dressing up your brown pants and add a touch of elegance to any outfit.
Ankle Boots
Ankle boots are also great to pair with brown pants, they come in different styles, such as the Chelsea boot, the desert boot, and the chukka boot. Each style has its own look and feel, but all of them are a great addition to any outfit.
Don't be afraid to experiment with different shoe styles and colors to find the perfect combination that works for you. And it's also worth noting that the shoes you choose to wear with your brown pants can also depend on the occasion, whether it's a casual day out or a formal event.
Conclusion
Overall, when it comes to choosing the best shoes to wear with brown pants, there are many options to choose from. From classic leather oxfords to trendy sneakers, there are many different shoe styles that can complement the color and style of your pants. By considering the occasion, color coordination and personal style, you'll be able to find the perfect pair of shoes to complete your look.