Shag Haircuts For Thin Hair – You want to look good, but you don't want to spend hours in the salon.
You want a hairstyle that's trendy and stylish, but it can't take up all your time.
Shag haircuts are perfect for busy people like you who want to look their best without spending a lot of time or money on getting that haircut or styling your hair every day.
In this article we'll explore some of our favorite shag haircuts for thin hair so that you can get started on finding yours!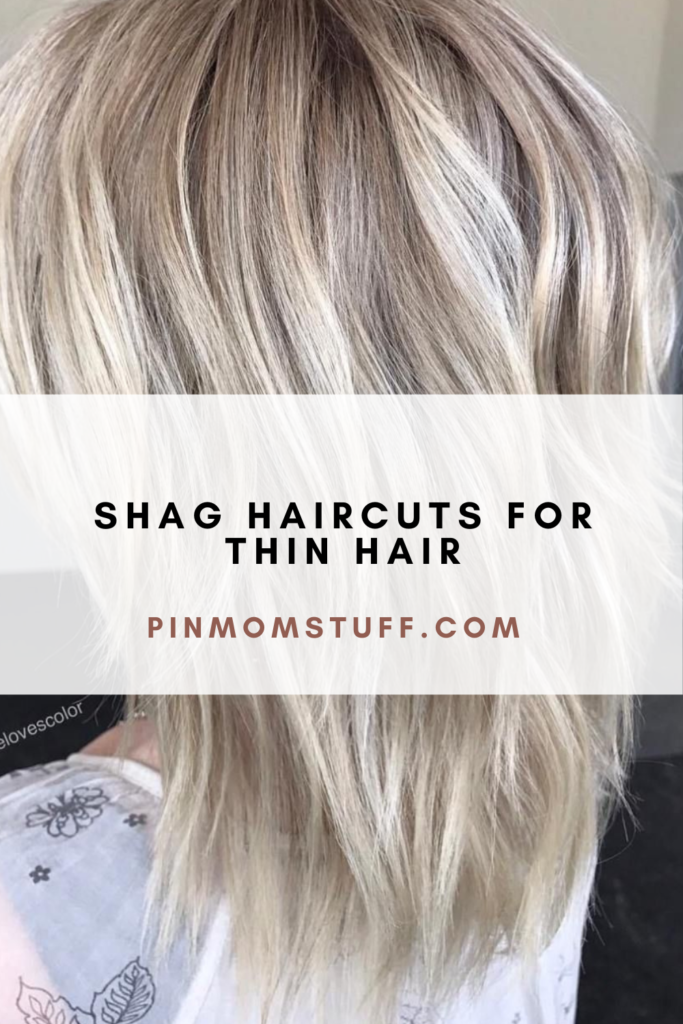 The Flip Shag
For those of you who have fine hair, it's important to choose a style that will add volume and texture.
The flip shag is great for this. It has lots of layers, which creates the illusion of a fuller head of hair.
You can also manipulate your flip shag for some added volume by teasing the crown area or blow drying with a round brush after styling it.
This will help push all the layers up so they look more voluminous and give you some lift up top as well!
The Wispy Shag
This shag is the perfect haircut for thin hair. It's a short cut that will not weigh down your strands, and it's low maintenance to style.
The wispy layers give you a lot of movement and drama, but they don't make you look like you're trying too hard.
The Textured Shag
When it comes to shag haircuts, the Textured Shag is a great choice for thin hair.
The textured layers add volume and texture which are both important in making your thin hair appear fuller.
If you don't want to go for a full-on shag cut but would still like some of that textured look, consider asking your stylist for longer layers with subtle movement.
The Straight Shag
This is a great haircut for fine hair because it's long enough to give your strands some volume, but short enough that you don't need to worry about them getting caught in knots or tangles.
You can wear this with bangs or without, depending on what works best for your face shape and personal style. The straight shag works well with straight hair, but if you have curly locks, try pairing it with curls.
The Choppy Shag
If you're looking for a haircut that works with fine hair, the choppy shag is the perfect style.
This cut can be styled in many ways and looks great on any face shape. You can wear it down or up—either way, it will look great!
Those shaggy haircuts will give your hair a fresh look.
Whether you have fine hair or thick hair, those shaggy haircuts will give your hair a fresh look.
While the term "shaggy" might make you think of unkempt locks, there are plenty of ways to style your shag haircut into something perfectly polished and professional.
For example: If your hair is naturally curly and very thick, try a short bob with some layers in the back that fall down over the face.
This will give it some shape while still keeping it long enough to pull back into a ponytail if necessary!
If you have thinning hair in general—or if you just want a more textured feel—this is also an excellent option since adding layers creates more volume at the roots so even though they're not super long themselves they'll help disguise any balding spots instead."
Conclusion
It may seem like a lot to take in, but once you start looking at the different shag haircuts for thin hair, it will start making sense.
There are so many styles out there that it can be hard to choose just one.
The best way to find your perfect style is by testing out different cuts at the salon or finding a friend with an awesome hairstyle who is willing to help you out!
With these tips in mind, we're sure that you'll find something amazing – and maybe even discover a new favorite look along the way!

Pin On Hair

Mid Length Shag For Straight Fine Hair Modern Shag Haircut Hair Styles Medium Shag Haircuts

50 Perfect Medium Hairstyles For Thin Hair To Give You Volume And Texture Thin Hair Haircuts Hairstyles For Thin Hair Medium Length Hair Styles

Pin On Haircuts For Fine Hair

Pin On Hair

Shaggy Haircuts For Fine Hair Shaggy Short Hair Medium Shag Hairstyles Short Shaggy Haircuts

Pin On Health

Pin On Hair

Messy And Shaggy Haircut For Fine Hair Thin Hair Haircuts Hairstyles For Thin Hair Haircuts For Fine Hair

Pin On My Style

60 Most Universal Modern Shag Haircut Solutions In 2021 Modern Shag Haircut Medium Shag Haircuts Hair Styles

Pin On Hairstyle

Pin On Cabelo

Pin On Hair Cuts For Thin Fine Hair Over 50

Pin On Hair

20 Youthful Shaggy Hairstyles For Women 2019 Hairstyles Weekly Short Shag Hairstyles Shag Hairstyles Short Hair Styles For Round Faces

Choppy Shag Haircuts For Thin Hair 201 There Are A Lot Of Women Who Actually Know That Thin Hair Haircuts Short Choppy Haircuts Short Choppy Layered Haircuts

20 Youthful Shaggy Hairstyles For Fine Hair Over 50 Hair Styles Thin Hair Styles For Women Hairstyles Over 50

I M Really Leaning Toward This Thin Hair Haircuts Short Thin Hair Short Shag Hairstyles

15 Top Shag Haircuts For Thin Hairstyle In 2020 Shaghair Hair Haircut Hairstyles Shorthair Hairstyles For Thin Hair Thin Hair Haircuts Shag Haircut