5 Ideas for Medium Length Summer Hairstyles – Whether you have short, medium or long hair, the summer is a great time to show off your style.
With so many beautiful looks to choose from, there's no reason why you can't find a hairstyle perfect for you.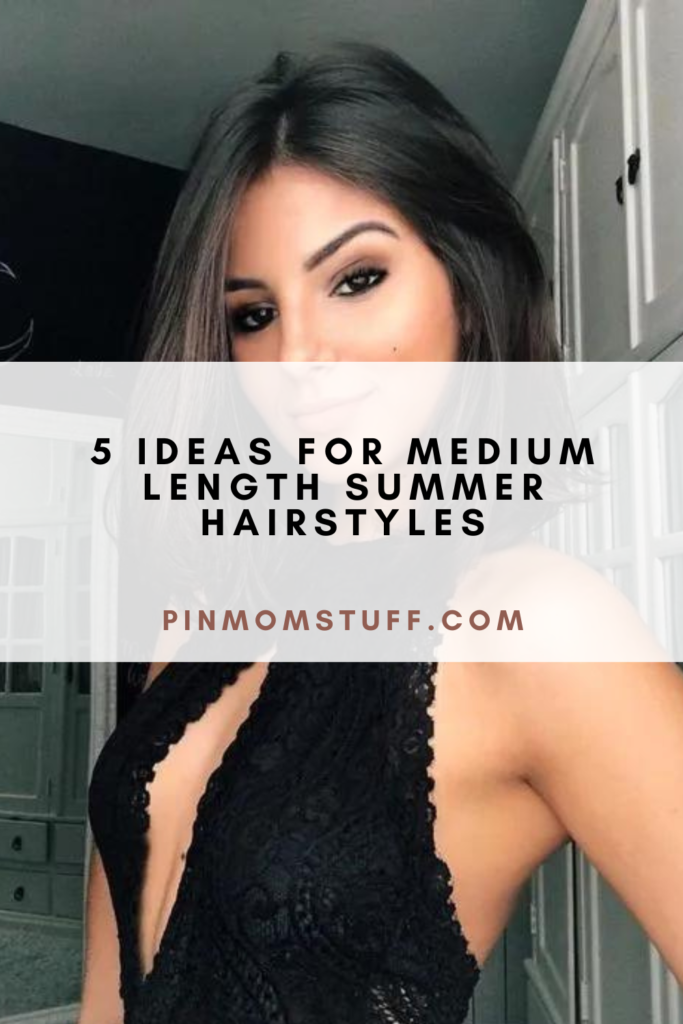 These are great summer styles for medium length hair!
If you're looking for a way to keep cool this summer, these hairstyles are sure to help.
They're all easy enough to do that you can do them at home and they'll only take a few minutes each.
You can also do them with your hair dry or wet, straight or curly, colored or not—whatever works best for you!
Side waves.
Side waves are probably the easiest hairstyle to achieve. You only need a good curling iron and some bobby pins.
To create this look, start by applying hair mousse or cream to damp hair.
Next, wrap your hair around the barrel of your curling iron starting from the top of your head down and pin it in place with bobby pins if necessary.
Repeat this step all over again until you have achieved your desired amount of volume at the root (this will help create more texture). Once that's done, let it cool and then release!
Ombre lob.
If you're looking for a medium length summer hairstyles that's a little more daring than your typical lob, we have the perfect solution: an ombre lob.
This look is basically a long bob with natural highlights that gradually change from dark to light. The best part? It's super versatile, so you can rock it in any season and with any outfit.
Just like other types of natural hair dye, ombre is done by bleaching sections of the hair before applying color (usually in layers).
The result is a gradual fade from dark at the roots to light at the tips that looks totally unique on everyone—but still totally wearable!
We love how versatile this style can be because it works well for both shorter and longer lengths—and depending on how much time you want to spend styling each morning, there are lots of ways to play up this look for different occasions!
Slicked back.
If you're looking for a hairstyle that's easy to maintain, this is it. It requires no heat tools and can be done by yourself in the mirror at home.
If you want to add some volume, use a comb to slick back your hair on both sides of your head before taking sections from each side of your part and pulling them back with bobby pins.
For extra control, apply a little bit of pomade or hair spray (you can even use hairspray for men) before using the comb to keep everything in place as well as adding shine!
Sloppy bun.
This style is perfect for the summer because it lets you show off your new manicure. It's also a great option for those who have short hair and want to create more volume.
To get this look, gather your hair into a ponytail and secure tightly with an elastic band.
Then, loosen up the ponytail by pulling some of it out of the elastic band. Use bobby pins to secure any stray hairs or flyaways until you get a messy-yet-polished look that works for any occasion!
Braided scarf.
The easiest way to do this is by simply making a braid, then tying a scarf around the end of it. The scarf will act as a belt and cover up any imperfections in your hairstyle.
It's also a great way to keep your hair out of your face when you're eating lunch or talking on the phone!
Easily done with two simple steps:
Take one section of hair from each side (left/right), and cross them over each other at their midpoint.
Repeat with another section from each side until all of your hair has been crossed over in this manner. At this point you can continue braiding like normal or leave the strands loose; it doesn't matter since they'll be covered up by the scarf anyway!
Conclusion
We hope you feel inspired to try one of these medium length summer hairstyles. Now, there are so many different options for medium length hair and this article only skims the surface.
But we found these styles especially beautiful and easy to achieve. Which one will you try?