8 Medium Length Hairstyles For Fine Hair – If you're searching for a new hairstyle, look no further!
We've found the best lengths, cuts and styles for fine hair – so you can achieve voluminous locks without any extra effort.
And if you're looking to take your hair from dull to full-on glamour, check out our top tips on how to fake thick and healthy strands…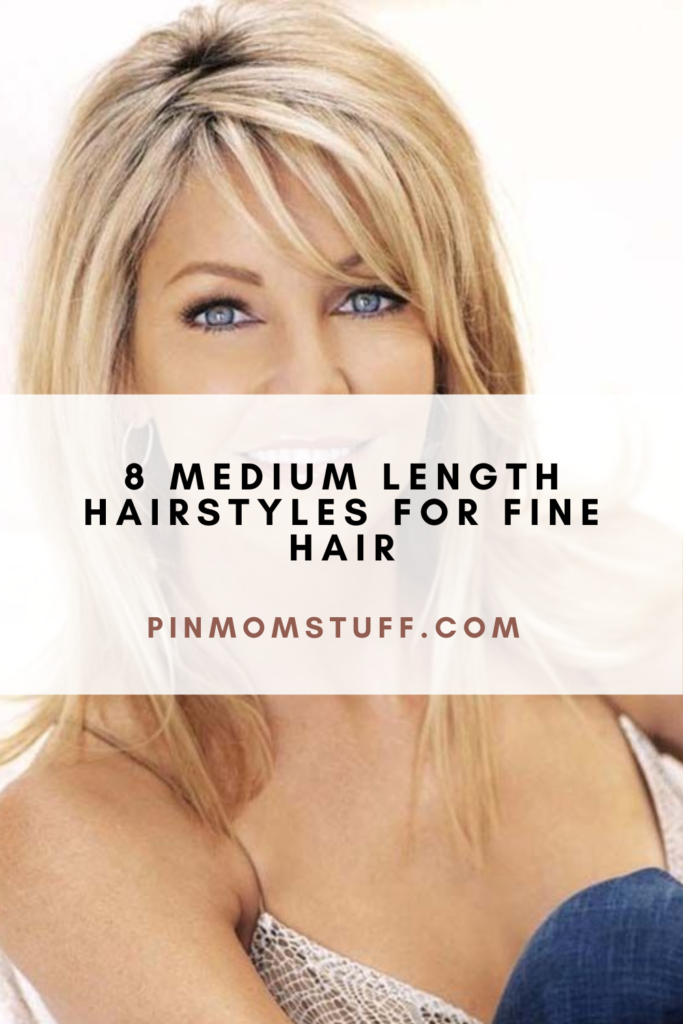 One-Length Ladies Cut
One-length ladies cut is a great hairstyle for fine hair. It's a low-maintenance, easy-to-style and easy-to-achieve haircut that will make your thin locks look thicker.
The one length gives your hair volume at the root, making it seem fuller without any extra effort on your part.
This style has been popular with celebrities such as Jennifer Lawrence, who wore her hair in this way while promoting The Hunger Games: Catching Fire in 2013.
This method requires no layers or bangs so there's no need to worry about keeping up with the latest trends; just let your stylist cut off some bulk from all over and call it a day!
Long Bob With Baby Bangs
Bangs are a great way to make fine hair look fuller and thicker. If you're looking for a new hairstyle with bangs, you'll have plenty of options.
Bangs can be cut straight across or in an asymmetrical style that adds interest and texture to your look. You can also ask your stylist about adding some curled-under baby bangs for a more polished look.
Bangs can be cut in a variety of styles, from straight across to wispy and curly. They're also perfect for hiding a receding hairline if that's something you're concerned about!
Chin Length Bob
To wear a chin length bob, you'll need to have at least some volume, so if your hair is fine it would be a good idea to try one of the volumizing shampoos and conditioners on our list.
If this doesn't work and you still aren't getting the results you want, there are plenty of other things that can help give your hair more body.
Try working in volumizing mousse or spray before blow drying your hair upside down with a round brush.
Then continue styling it with the same technique upside down until completely dry and set by pinning sections of hair back against the head using bobby pins or clips for extra hold (if needed).
You can also try adding some texture by curling sections around a 1-inch barrel curling iron.
Shoulder Length Slinky Straight Bob
This style is one of the most popular in this category. It brings out your natural beauty, and it's easy to maintain.
If you have fine hair, you can wear this bob for a long period of time because it doesn't require much effort to be styled.
Long Bob With Fringe And Thinned Out Ends
This look is perfect for anyone who's looking for a long bob hairstyle that's got some edge. The blunt cut and thinned out ends give this style plenty of movement, but the fringe keeps it from being too severe.
Shoulder Length Hairstyle With Babylights And Lowlights
This look is perfect for fine hair. The color and style of this hairstyle will give you an extra boost of confidence and will help you stand out from the crowd.
This hairstyle features babylights that are placed throughout the lower section of your hair, creating a more dimensional look.
To create this look, ask your stylist to apply highlights in monochromatic shades (usually blonde) throughout your strands.
Babylights are typically applied to the lower sections of a person's hair, but can also be used on top layers as well!
Babylight applications usually include several shades from lightest blondes to darker browns or black hues depending on what color combination you like best!
Straight Blunt Cut Medium Hairdo
If you have thin hair and are looking to add some volume, the straight blunt cut medium hairstyle is perfect.
With this look, your locks are trimmed evenly all around so it's easy to maintain. This style looks great on all face shapes and can be worn loose or pulled back into a ponytail.
Inverted Lob With Center Part Hairstyle
The inverted lob with center part is one of the best hairstyles for fine hair.
The inverted bob is a great choice because it lets you show off your gorgeous face and neck while creating a full look on the crown, which can help make thinning hair look thicker.
The center part also draws attention to your face and away from any scraggly ends.
Bangs can be added as an accent to give this style a youthful appearance or keep them to one side for an elegant vibe.
Conclusion
The above are some ways to make your fine hair look full and luscious. You can use these ideas to create a new look for yourself, or as inspiration for a new hairstyle.
We hope that these hairstyles have inspired you to try something new. Remember, with so many different variations on the same length, there's no reason your hair should ever be boring!
Whether it's long or short, curly or straight — there are plenty of ways to make each look as unique as possible (and we're still not done yet).
So go ahead and take what you need from this article — whether it be inspiration or tips — then get out there and show off those gorgeous locks!