20 Layered Long Bob Haircuts For Thick Hair – Bob haircuts are one of the most versatile, elegant and timeless hairstyles.
They're also an easy way to show off your thick hair if you want a more low maintenance look. Layers give your hair movement and volume, which is perfect for thick hair types.
The best part is that there's no limit to how many layers you can add or how short the length can be.
Go for a layered bob with long bangs if you want a more dramatic look or opt for an asymmetrical cut if you prefer something a little softer on your face!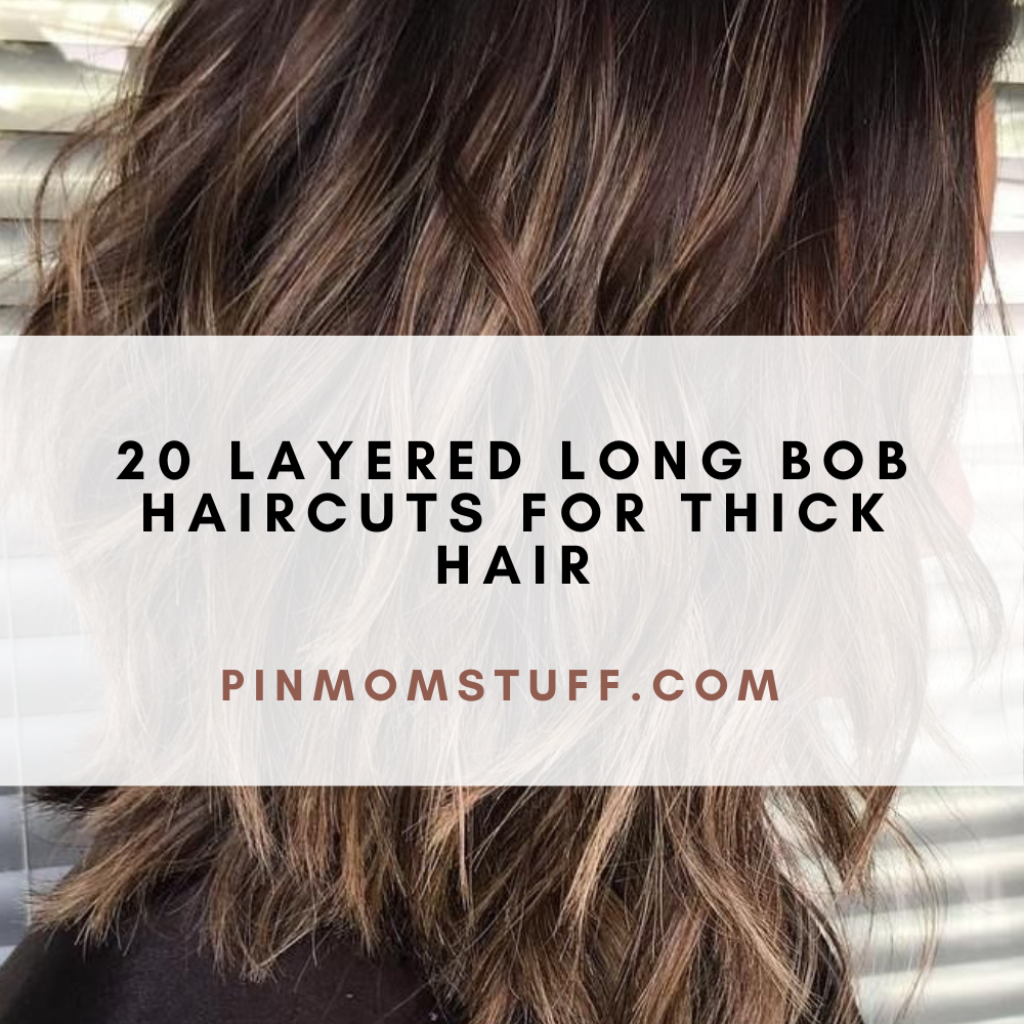 Asymmetrical
The asymmetrical bob haircut is perfect for thick hair because it allows you to wear your hair short on one side and long on the other.
This look is great for all face shapes, but especially best suited for heart or oval shaped faces.
If you have thick hair, this style will be easier to maintain than a traditional bob cut because you can get it professionally trimmed every 4-6 weeks without having to worry about growing out your ends too much.
Choppy
You can opt for a choppy bob with layers that are cut close to the head and at a slight angle. The layers are cut at different lengths and angles so they create movement as they fall over each other.
The length of the layers can vary depending on how much texture you want in your hair.
Blunt Bob
The blunt bob is another easy, low-maintenance hairstyle that can be worn twisted, swept to the side or pulled back away from the face.
This easy hairstyle works well on thick hair because it's cut into a blunt shape and then styled in a variety of ways.
The key to this style is that it's not too long or too short so you can style it easily. It's also an ideal choice for those with asymmetrical features as this haircut helps balance out different facial features.
Graduated Bob
If you have thick hair and want to try a layered bob, then this is the right style for you.
The graduated bob is an inverted version of the classic bob cut. Instead of having the longest layer in front, the graduated bob has it at the nape of your neck.
The length gradually decreases towards your face until you reach your chin line where there are no layers at all.
This creates an overall smooth look that makes fine hair appear thicker and fuller while long layers help make thick hair appear fuller and more voluminous as well.
Angled Bob
The angled bob is a cut that is longer in the back and shorter in the front, giving you both length and volume.
This style can be styled in many ways, including sleekly straight or wavy. It's a flattering cut for women with round faces, as it gently angles along their jawline.
Wavy Lob Cut
This hairstyle is ideal for thick hair, especially if it's naturally wavy. The soft waves add texture to an otherwise simple style, which will help to make your look feel more modern and youthful.
The bob is also a great option for women who have thicker facial features, as it helps to draw attention away from the face and toward the rest of the body.
For example, if you have a rounder face shape and want a hairstyle that's going to visually slim down your visage, this cut could be just what you're looking for!
Additionally, because this style is so easy to maintain (and can be styled quickly), it's perfect for days when you need something super low maintenance but still want something fashionable in case friends pop over unexpectedly.
Get a haircut with layers for your thick hair.
If you have thick hair, it's important to get a haircut with layers. Layers help to add volume and movement to your hair, which can be beneficial if you're looking for a haircut with more movement.
Layers can also help balance out the look of your hair if it is too heavy on one side or another.
If you have thick curls in the front of your head and straight strands in back, getting a layered bob cut will help even out the weight distribution across each side of your head so that both sides are equally weighted down by gravity!
Conclusion
Now that you have learned about the best layered haircuts for thick hair, it is time to go out there and get one!
These hairstyles will give you plenty of options to choose from so that you can find the perfect look for your face shape and personality.