20 Easy High Updos For Thin Hair – You don't need to have thick hair to pull off an updo.
All you need is a good updo style and some creative ideas. Keep your hair thick by using these tips and tricks: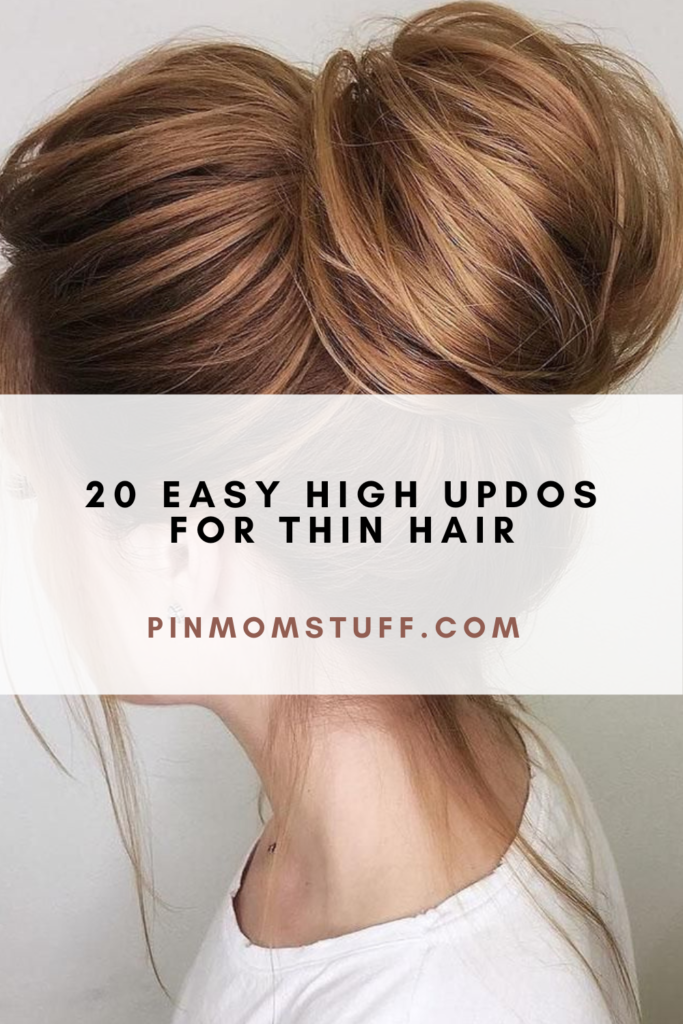 The high updo
The high updo is a versatile hairstyle that can be worn in many different ways.
It looks best on long hair, but it can also work on short hair as long as you have enough length to pull back into the style.
The high updo works best on thin hair because it will help add volume and texture to your strands.
To get started, use a comb or your fingers to create soft waves throughout your locks and then gather all of them into a ponytail at the nape of your neck.
If you want extra height, try using an elastic band around the base of the ponytail and then gathering more pieces from around its base as well!
Don't have enough length for an actual ponytail? No problem!
You can still wear this style by simply twisting all of your strands together before securing it with clips or bobby pins (which should be applied right where they join).
This will create the illusion that there's more depth in your upstyle than there actually is (and make others think you've got thick lustrous mane).
Half up half down
The half up, half down style is a favorite for many women. It's a look that can be dressed up or down, and it's easy to do. All you need is your favorite accessory (scarf, clip, bobby pin) and some hair elastics!
If you have thin hair and are looking for an updo with volume, this is the style for you. The bun adds height to your thin locks in order to make them appear thicker.
Twisted bun
This updo is super easy to do since it's basically just a high ponytail. Start by twisting all of your hair into a high, loose ponytail.
Then pull the hair through to create a bun and secure with bobby pins. To finish, add a few loose curls for a more polished look!
Sleek top knot
To achieve this look:
Tie all your hair into a ponytail, make sure it's tight enough so that no stray hairs are sticking out.
Use a hair dryer to smooth the hair as much as possible. You may need to use a heat protectant spray if your hair is particularly prone to breakage or frizziness.
Use a flat iron on its lowest setting, or run it through sections of your top knot while using light pressure and watching carefully for any burns (if you're inexperienced with styling tools like this one)
Fancy ponytail
You can also use a ponytail holder or tie your hair in a half ponytail to add volume. A bobby pin can be used to secure the ponytail, and this will also help with any flyaways that may need taming.
Conclusion
All these hairstyles were especially made for thin hair and all of them can visually add more volume to your hair, making it look fuller.
We hope you enjoyed our list of high updos for thin hair. These hairstyles are perfect for those who have thin hair but still want to show off their beautiful locks.
We have shown you how easy it is to style your hair and give yourself some volume, so now all that's left is up to you!