15 Easy Christmas Hairstyles For Black Hair – Black hair is beautiful. You can make it even more beautiful with these simple hairstyles we've collected for you.
Whether you have short, long, natural or relaxed hair, there's a hairstyle that will suit your look and personality.
The goal of these looks is to give women with black hair an opportunity to wear their natural tresses in styles that are chic and trendy.
Some of these looks are easy enough for anyone to achieve at home while others require help from a professional stylist if they want something more elaborate.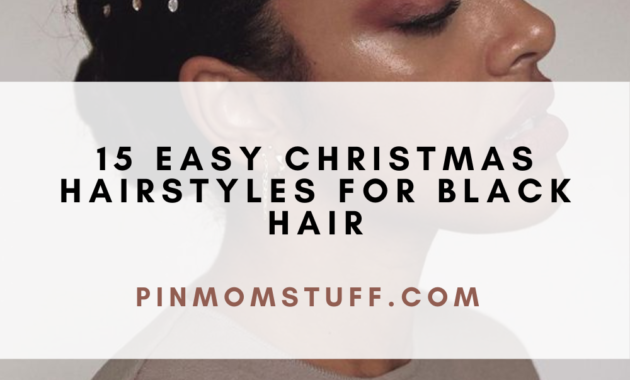 Straight Bob
The straight bob hairstyle is a classic, versatile look that can be adapted to suit any hair length or texture.
You can wear a long straight bob or a short one, with bangs or without. If your hair is curly or wavy, the straight bob will complement and enhance the natural waves of your tresses.
The style works especially well for fine and thick hair types because it creates volume on top while keeping sides and back sleekly in place.
Cornrows
Cornrows are a great way to add volume and texture to your hair. They also allow you to show off your natural hair, which is something that many people are comfortable with doing.
Cornrows can be used in a variety of ways, too: you can make them into a ponytail or use them as an accent piece on another hairstyle.
Braided Crown
To get this look, you'll need a little bit of length in the front of your hair. You should also have at least five inches in the back where you can grab some hairs and braid them together.
Ideally, your hair type is one that isn't too fine or thin because braiding those kinds of textures can cause breakage. This style works best for those with coarse yet manageable locks.
Once you've gathered all the necessary supplies and tools, it'll take about 15 minutes to complete this hairstyle on yourself—a little less if someone else is doing it for you!
Golden Highlights
Golden highlights are a great way to add some brightness to your hair. Golden highlights look great with black hair and all hair types, and they're even easier to get at the salon than an up-do or braid.
You can also color your hair yourself by using a semi-permanent dye that's specifically designed for black or dark brown hair.
Just remember: always test any dyes on a small portion of your scalp before applying it all over!
Regal Waves
Start out with clean and dry hair. Use a heat protectant before curling your hair to prevent it from breaking.
For this style, use a curling iron to create beach waves.
Make sure you wrap each section around the barrel of the curler in one direction (clockwise or counterclockwise) and then clamp it down for a few seconds until you get the desired amount of wave.
You can also use a wand if that's easier for you!
Spray hairspray on your finished look while it's still damp so they stay put when they dry up!
Conclusion
A hairstyle is the perfect way to show off your personality. It's also a great way to express yourself and make a statement about who you are as an individual.
Hairdos can be as simple or elaborate as your imagination will allow, so let your creativity run wild!