3 Stylish Summer Hairstyles For Black Hair Ideas – Hey, girls! We all know that summer is the best time of year.
The days are longer and hotter, you get to wear less clothing, and—dare I say—it's even the perfect season for you to show off your natural hair.
While there are plenty of hairstyles out there that can help keep your hair looking healthy in the warmer months (hello, braids!), sometimes you just want something fun and different to switch things up.
And since we're already halfway through August (and it feels like it's going by too fast), now is definitely the time to try something new!
Here are 3 stylish summer hairstyles for black hair so you can update your look with ease: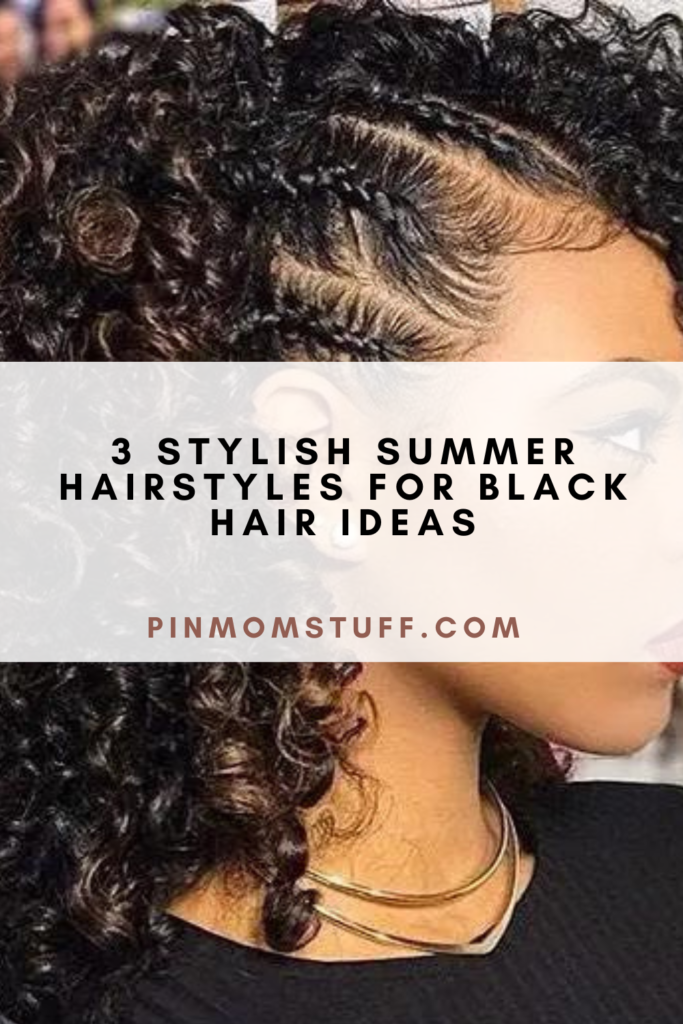 Summer Hairstyles For Black Hair
Summer hairstyles for black hair are as versatile as they come. From braids and cornrows to afro puffs and twists, we've got a variety of styles to choose from.
If you want to get your hair done up but are worried about damaging it with heat tools or chemicals, check out our natural hairstyles section for some great ideas.
Frontal Sew In
If you're looking for a hairstyle that will take your look from everyday to extraordinary, a frontal sew in may be the perfect solution.
A frontal sew in is when you have hair extensions professionally sewn into your own natural hair at the front of your head.
This method is great for women who want to add volume and length while retaining their natural texture and style.
If you're considering getting a frontal sew in, here are some things to consider:
How long do I want my hair? If you want something that falls past shoulders or all the way down to just above the waist, plan on bringing along pictures of styles that inspire you so your stylist can ensure they match what you envision. It also helps if they know what products work best with your hair type before making any decisions about how long it should be or how much volume should be added.
What kind of texture do I have? If yours is thick and coarse (also known as dense), then this style may not work well on its own because it tends not blend seamlessly with other textures (thickness). But if yours has fine strands that don't hold much curl or body (also known as fine), then this style could work nicely!
Knotless Crochet Braids
Knotless crochet braids are an excellent option for women with relaxed, textured or natural hair.
The process involves weaving synthetic hair into your natural hair to create a seamless look that's soft to the touch and lasts for several months.
You can get knotless crochet braids done at the salon or DIY them yourself at home.
If you plan on going the DIY route, be sure to watch this video from YouTube user "KnottyNessy." She shows how she makes her own crochet braids in under 10 minutes!
Knotless crochet braid extensions are very versatile when it comes to styling and maintenance.
You can wear them straight out of the box or style them into any number of cute looks (like a ponytail) using heat like curling irons and flat irons.
When it's time for new growth, simply take out one strand at a time until all strands have been replaced with fresh extensions that match your natural hair length perfectly.
Crochet Braids With Curls
Crochet braids with curls are the perfect way to spice up your hair for summer.
Whether you want to get a little more creative or just add some coolness to your look, this style will give you both options.
There are many ways that crochet braids can be styled, but we're going to focus on one of our favorite styles.
Gather all the hair that you want to put in the braid and divide it into 2 parts, back and front.
Start by putting a small section of hair down at the back of your head (behind where you plan on parting) and braid it tightly until you reach a point where there aren't enough pieces left for another section (usually near the crown).
Pull out each piece individually so that they are straightened out before adding them onto the existing braid—this will make sure that they stay smooth and don't create any bumps or kinks in our finished product!
Continue this process until all of those sections have been added onto our original one until both sides meet together at their ends (you may notice some gaps if there wasn't enough length in certain sections).
Conclusion
If you're looking for new summer hairstyles for black hair, why not try one of these? They're all easy to do and will look great on those hot summer days!